Trips near Rokytnice nad Jizerou, Czech Mountains
Trip to the village chapel
One of four chapels of Rokytnice nad Jizerou is situated on the Kostelní Hill. In 1724, a wooden chapel was built here, and in 1768 it was demolished and replaced by a brick chapel. In the past, this place was chosen as a place for construction of a new square, but it did not happen, and the square was built in Dolní Rokytnice nad Jizerou.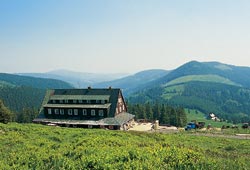 Mountain Chalet Dvoračky
Trip to the Dvoracky Chalet
The Dvoračky Mountain Chalet lies at the altitude of 1.140m a.s.l. between Lysá hora and the mountain Kotel at the crossing of tourist trails Dvoračky – Rokytnice n. J., Studenov, Harrachov, Mísečky, Špindlerův Mlýn, Rezek. Further, along Dvoračky, one of the oldest trails goes uphill. It is called "Česká" and was already known in the 10th century.
Nowadays, Dvoračky is visited for its home bakery, excellent cuisine, mountain specialties, and reasonable prices. It is open all year long from 9.00am to the midnight.
Trip to the Elbe spring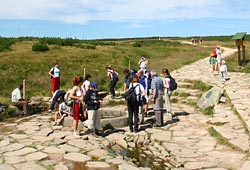 Elbe Spring
The starting point is a chapel above the square. From here, we set out uphill to the wood, where we follow the signposts and turn right in direction of Staropacké boudy (huts of Stará Paka). Further on, we continue to the crossing Ručičky, from here to Zadní plech, via Krakonošova snídaně to the chalet Vosecká bouda. Then, we continue following the signposts to the Elbe spring (1386 m a.s.l.), to the chalet Vrbatova bouda, and following the red trail to Horní Mísečky. Then following the green trail via Kotelní jámy to Dvoračky (open all year long). Now, we go down the hill to the valley following the yellow trail via the so-called "Romance" to the chalet Švadlenka (under reconstruction after a fire) and on the contour line to another chalet Lovčenka, where we can refresh ourselves. Then we climb down to the valley to the Upper Square in Rokytnice nad Jizerou.
Trip to the Hutsky Waterfall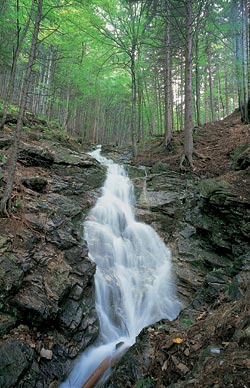 Hutsky Waterfall
The Huťský waterfall is 20m high and its water comes from the Huťský stream which rises below the Dvoračky chalet. It was named Huťský (meaning "relating to glassworks") after the first glassworks in the Giant Mountains in which the famous Schürer family worked from the year 1562.